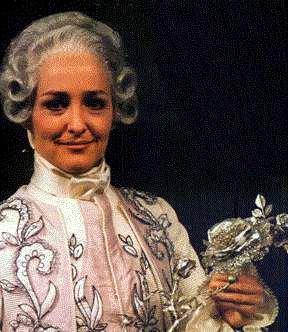 from Jo...
Dear fffers,
Hope y'all have a good summer and get a chance to hear Flicka and Sam Ramey in Ravinia, Hollywood Bowl, Brevard or Philadelphia.
Our beloved mezzo was a very enchanting Merry Widow at the Met. She lit up the stage from the moment she made her entrance down a long, red staircase with the Eiffel Tower in the background, in every scene thereafter. The widow is the role most suited to her at the moment, just as Cherubino was the role she made her own when she started her career. If you are interested in reading the reviews and seeing the pictures from the Met Merry Widow, go to Placido's website http://www.tenorissimo.com click on the latest article and picture gallery. Enjoy.
Take a look at the updated schedule and start planning your summer, fall and winter schedules, as it's never too soon to plan for Flicka trips!
There's talk of recitals in Buenos Aires and Spain next year. For those of you who had the good fortune to enjoy Flicka and the Chanticleer boys, last year, the 2001 version will be starting in March in Atlanta, and winding its way through the East Coast.
Have a great summer!!
Our Editor and I thank you for your patience and support. Please Continue to mail postage stamps to our Editor at: "fff' c/o M. S. Hanson P.O. Box 1222, Edgewood, MD 21040- 0522.
js
Back to fff